Latest User Testimonial
I've been needing to keep up with my personal finances, but i never got around to it until trying fl...
Latest flowlog News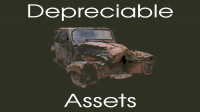 Depreciable Assets report now available to flowlog.net members. Please see the full post for further...
Visitor Feedback
Issue with flowlog.net? Is flowlog missing a critical feature? Something else?
This is a Chart of Accounts example that is intended to demonstrate what might be needed for a small service business' books. In this case, a Sole Pro...
Here we quickly demonstrate how to create a new entry in flowlog.
Errata: 2:45-2:51. Should have said "...the entry item that corresponds t...
---
Here we show how to create a new set of books in flowlog.
In this video, we'll demonstrate a few examples for creating new accounts in flowlog.
Errata: bank account names should have contained the...
---
In this video we'll be covering the steps that are recommended for new members when getting started with flowlog. Initially covering the About flow...