Latest User Testimonial
I've been needing to keep up with my personal finances, but i never got around to it until trying fl...
Latest flowlog News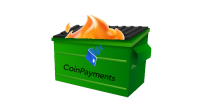 Coinpayments.net is ending service for US customers. This affects certain flowlog billing features....
Visitor Feedback
Issue with flowlog.net? Is flowlog missing a critical feature? Something else?
Lets get into what Customers and Vendors are in flowlog's Billing section.
In short, a Customer refers to entities that pay you for services, products, etc. Alternatively, a Vendor refers to entities you pay for services, products, etc.
For example, if you are an electrician and you just completed a lighting job for someone, then you would create a Customer in flowlog, enabling you to create an invoice for that Customer (or a Bill from the Customer's perspective).
You can view all the Invoices for a particular Customer from the main Customers page, which are organized by Unpaid and Paid statuses. This allows you to quickly see if there are any outstanding payments due from a particular Customer.
Customer
Lets go ahead and create a Customer.
If you are already on the Customers page in the Billing section, then just click on the "+ new customer" button. As you can see, there is a lot of useful information you could add for a single Customer, but the only requirement for creating a Customer is their Short Name (used for display in flowlog when space is tight) and the Full Customer Name.
Once you fill this out, click save.
If you want to be able to notify a Customer of an Invoice that is due, then you will need to add their email address. An advantage to filling out these input fields for a Customer is when or if you have other flowlog users who help manage your books, they will already have the necessary information about a customer and any important contact info.
Vendor
Now lets say you are the one paying for a product or service. Then you would go to your Vendors page and click on the "+ New Vendor" button. The process would be the same as creating a Customer. The only difference is, the Vendor will not be notified of a Bill as you are the one paying it, so if you enabled notifications for a Bill then you will be receiving an email "payment due" reminder for that Bill.
I personally use Vendors for any service that has recurring charges such as a phone bill, insurance, internet, etc.
So, that's the breakdown on Customers and Vendors. If you want to know more about the other sub-features in flowlog's Billing section, we will be releasing more videos very soon if they are not out already.
Thanks for watching!
---
Comments
---
No existing comments found for this screencast.