Latest User Testimonial
I've been needing to keep up with my personal finances, but i never got around to it until trying fl...
Latest flowlog News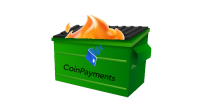 Coinpayments.net is ending service for US customers. This affects certain flowlog billing features....
Visitor Feedback
Issue with flowlog.net? Is flowlog missing a critical feature? Something else?
---
---
Title:
500 error when trying to create flowlog admin user
Description:
"Trying to get property 'id' of non-object" when trying to access the id of the first books users role in a loop in the create user form on the https://flowlog.net/admin/users/create page. Just trying to visit the page causes the 500 error. These admin user roles are hardcoded in the DB so this should work. Maybe these roles never got copied to the live flowlog.net DB and flowlog account user creation was only tested locally?

Looking into this.

---
---
Comments
---
No existing comments found for this issue.