Latest User Testimonial
I've been needing to keep up with my personal finances, but i never got around to it until trying fl...
Latest flowlog News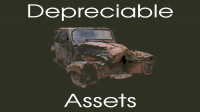 Depreciable Assets report now available to flowlog.net members. Please see the full post for further...
Visitor Feedback
Issue with flowlog.net? Is flowlog missing a critical feature? Something else?
---
---
Title:
entry items by account should probably be sorted by date, not id
Description:
currently sorted by id, which only the developer would care about.

It makes you think the entry item is not there, at first, until you notice the dates are all wonky.

---
---
Comments
---
No existing comments found for this issue.