Latest User Testimonial
I've been needing to keep up with my personal finances, but i never got around to it until trying fl...
Latest flowlog News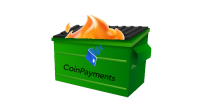 Coinpayments.net is ending service for US customers. This affects certain flowlog billing features....
Visitor Feedback
Issue with flowlog.net? Is flowlog missing a critical feature? Something else?
---
---
Title:
Customer Invoice data shown as encrypted string with AAE enabled
Description:
if a flowlog account has enabled AAE, the customer data gets encrypted, and only decrypted for the flowlog account users who provide the AAE key for that account+session. This is a problem when the customer goes to view their invoice and all the pertinent data on the invoice is an unreadable string of encrypted text. 
i just completely forgot about this eventuality. Will have to think about this.
Users should understand that the ability for customers to view and pay their invoices does not currently work with AAE enabled. So, until this issue is resolved, it's one or the other: AAE or the ability to view and pay customer invoices.

---
---
Comments
---