Latest User Testimonial
I've been needing to keep up with my personal finances, but i never got around to it until trying fl...
Latest flowlog News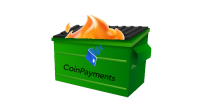 Coinpayments.net is ending service for US customers. This affects certain flowlog billing features....
Visitor Feedback
Issue with flowlog.net? Is flowlog missing a critical feature? Something else?
---
---
Title:
need help text for invoice/bill delete buttons
Description:
users need to know that delete invoice/bill will nuke the books entries for those invoices/bills too.

---
---
Comments
---
No existing comments found for this issue.