Latest User Testimonial
I've been needing to keep up with my personal finances, but i never got around to it until trying fl...
Latest flowlog News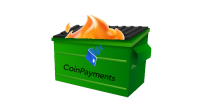 Coinpayments.net is ending service for US customers. This affects certain flowlog billing features....
Visitor Feedback
Issue with flowlog.net? Is flowlog missing a critical feature? Something else?
---
---
Title:
show [C] for contra accounts on books dash chart
Description:
It would be nice to note that an account listed in a category is a Contra Account, on the books dashboard. The total is currently calculated correctly when a Contra Account is included, but when looking at the pie graph there's no way to tell that the contra account value is being subtracted, unless you look at the category total and do the math. It would be nice if the [C] had help text too, if it can be done without making it too ugly/cluttered.

---
---
Comments
---
No existing comments found for this issue.