Latest User Testimonial
I've been needing to keep up with my personal finances, but i never got around to it until trying fl...
Latest flowlog News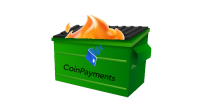 Coinpayments.net is ending service for US customers. This affects certain flowlog billing features....
Visitor Feedback
Issue with flowlog.net? Is flowlog missing a critical feature? Something else?
Sep. 10, 2019 @ 01:11pm
screencasts won't playback

flowlogEntity
posts: 23
joined: Jan. 19, 2018
Attempting to watch the screencasts ... when I press the "play" icon, the timer bar appears with 0:00 at start and end, and nothing plays - a small gray box appears. This happens whether I hit play from the main screencasts page, or go into each individual screencast page and hit play there.

holly
posts: 5
joined: Sep. 10, 2019
NOTE: I am going to install Firefox & try with the recommended browser ... currently using Safari 12.1.2
UPDATE: SUCCESSFUL VIEWING IN FIREFOX & CHROME ... thanks! 

flowlogEntity
posts: 23
joined: Jan. 19, 2018
Yes, please do and please report back if that works. The screencasts are in webm format and it looks like Safari (on IOS or OSX) still doesn't have full support for webm.

Also, to be clear, the browser recommendation is also OS specific in some cases.

For example, it's my understanding that Apple forces Firefox and Chrome to use Apple's Webkit rendering engine on IOS and OSX, instead of their own, native rendering engines, Gecko and Blink, respectively. This will make the IOS/OSX versions of Firefox and Chrome less capable than they would be in Gnu+Linux or Windows.


holly
posts: 5
joined: Sep. 10, 2019
Aha ... of course!  Well, I will go ahead and try Firefox on this laptop and update this thread w/ the results, but in any event I have another computer running GNU/Linux and will probably land there; I'm just unable to connect it to the internet at this time. Thanks for the feedback, it's very helpful!

flowlogEntity
posts: 23
joined: Jan. 19, 2018
I see your update above. Thanks for getting back to me on that. I'm glad Mac OSX users can use Firefox or Chrome to watch the screencasts.

BTW, does the flowlog forum give you the option to change the status of this thread to "resolved" if you edit the thread? i'm guessing it does, but i can't remember.

If so, feel free to mark your threads as "resolved". Thanks for your participation!