Latest User Testimonial
I've been needing to keep up with my personal finances, but i never got around to it until trying fl...
Latest flowlog News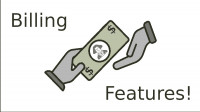 flowlog just got billing and invoicing features! View the full post to see what's included.
Visitor Feedback
Issue with flowlog.net? Is flowlog missing a critical feature? Something else?
Vendors in the flowlog Billing section refer to entities you pay for services, products, etc. The Vendors feature is useful for keeping up with Vendor contact details, notes, etc. A Vendor is a prerequisite for any Bill. You can also view all the Bills for a particular Vendor from the main Vendors page, which are organized by Unpaid and Paid statuses. This allows you to quickly see if there are any outstanding payments due for a particular Vendor.