Latest User Testimonial
I've been needing to keep up with my personal finances, but i never got around to it until trying fl...
Latest flowlog News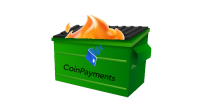 Coinpayments.net is ending service for US customers. This affects certain flowlog billing features....
Visitor Feedback
Issue with flowlog.net? Is flowlog missing a critical feature? Something else?
General info about the payment process
You can make a membership contribution payment at any time by visiting the payment page. The first 100 users can use the beta for free during the beta period, but if you would like to support flowlog.net during the beta, you can still make a payment via the payament page. Don't feel obligated, but we do appreciate it! Under normal circumstances, if you are paying in advance of your membership's expiration/due date, your due date will be increased per the invoice frequency setting in your flowlog.net account's Admin section. If your membership has already expired, your due date will be increased by one month/yr from the current/payment date.
flowlog.net uses Coinpayments.net to process cryptocurrency payments and paypal payments are passed directly to paypal (via coinpayments) for processing by paypal. Various cryptocurrency payment methods are discounted in relation to their privacy and/or convenience benefits, and the discounts are automatically deducted. In other words, the amounts you see on the coin selection page already include the discount. Coinpayments.net calculates their own value for each coin, but you can compare the amounts and other websites like coinmarketcap.com to indirectly validate the discounts. If you wish to pay with Paypal you can click on the PP icon on the coin selection page.
Cryptocurrency info
If you are new to cryptocurrency and just want the easiest way to buy some digital coinage using USD or other national currency, you can look into coinbase.com. You can tie your bank account or paypal account to your coinbase account and buy bitcoin that way. Then, if you want to trade bitcoin for Monero or another coin, you can use an exchange like bittrex.com. Other methods such as localmonero.co, localbitcoins.com and/or the application BISQ may afford more privacy or other benefits, but may require more research and/or setup to make purchases or sales safely. You could also buy a graphics card or two and mine Monero to your own wallet, available to download from the monero website linked above. Please do your own research on any of the methods mentioned here and please understand that we are not endorsing any of these methods: just listing them for your information and convenience.