Latest User Testimonial
I've been needing to keep up with my personal finances, but i never got around to it until trying fl...
Latest flowlog News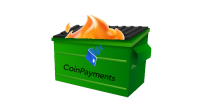 Coinpayments.net is ending service for US customers. This affects certain flowlog billing features....
Visitor Feedback
Issue with flowlog.net? Is flowlog missing a critical feature? Something else?
The Billing/Invoicing feature set is an optional set of features that allows a flowlog user to enter Customers and Vendors and create Invoices and Bills for them, respectively. When you create a Bill or Invoice, or when those Bills or Invoices are paid, the appropriate bookeeping entries will be created for you by flowlog, based on the accountihg method you've chosen for a given set of books.
This feature set includes the ability to see all the Invoices/Bills for a given Customer/Vendor, sorted by paid/unpaid, email notifications for you and/or the customer, recurring invoices/bills (automated Invoice/Bill creation), as well as the ability for your customers to pay your invoice online via your flowlog account using cryptocurrency or USD. See the rest of this feature set's documentation, the screecasts and the built-in help text for more details. If you still have questions after that, please feel free to ask in the forum. That's what it's there for. :)
Invoices and Bills: What's the difference?
In flowlog these terms are considered from the flowlog user's perspective. Therefore, Invoices are bills you send to your Customers (even if you don't actually use the notification/send feature), and Bills are invoices your Vendors send to you, even if you are the one actually creating the "virtual bill" in flowlog to represent some real world bill you need to pay or have paid one of your vendors. If it's still a little confusing, don't worry, as these concepts/labels will be presented in the context of Customers and Vendors in flowlog, and it will make more sense then.