Latest User Testimonial
I've been needing to keep up with my personal finances, but i never got around to it until trying fl...
Visitor Feedback
Issue with flowlog.net? Is flowlog missing a critical feature? Something else?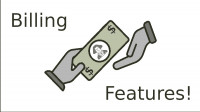 flowlog just got billing and invoicing features! View the full post to see what's included.
category: new feature
posted: 2 years ago